We are delighted to announce the winning entrants are:

1st Prize:
Janet Mobbs – Attracting investment to eliminate fossil fuel usage.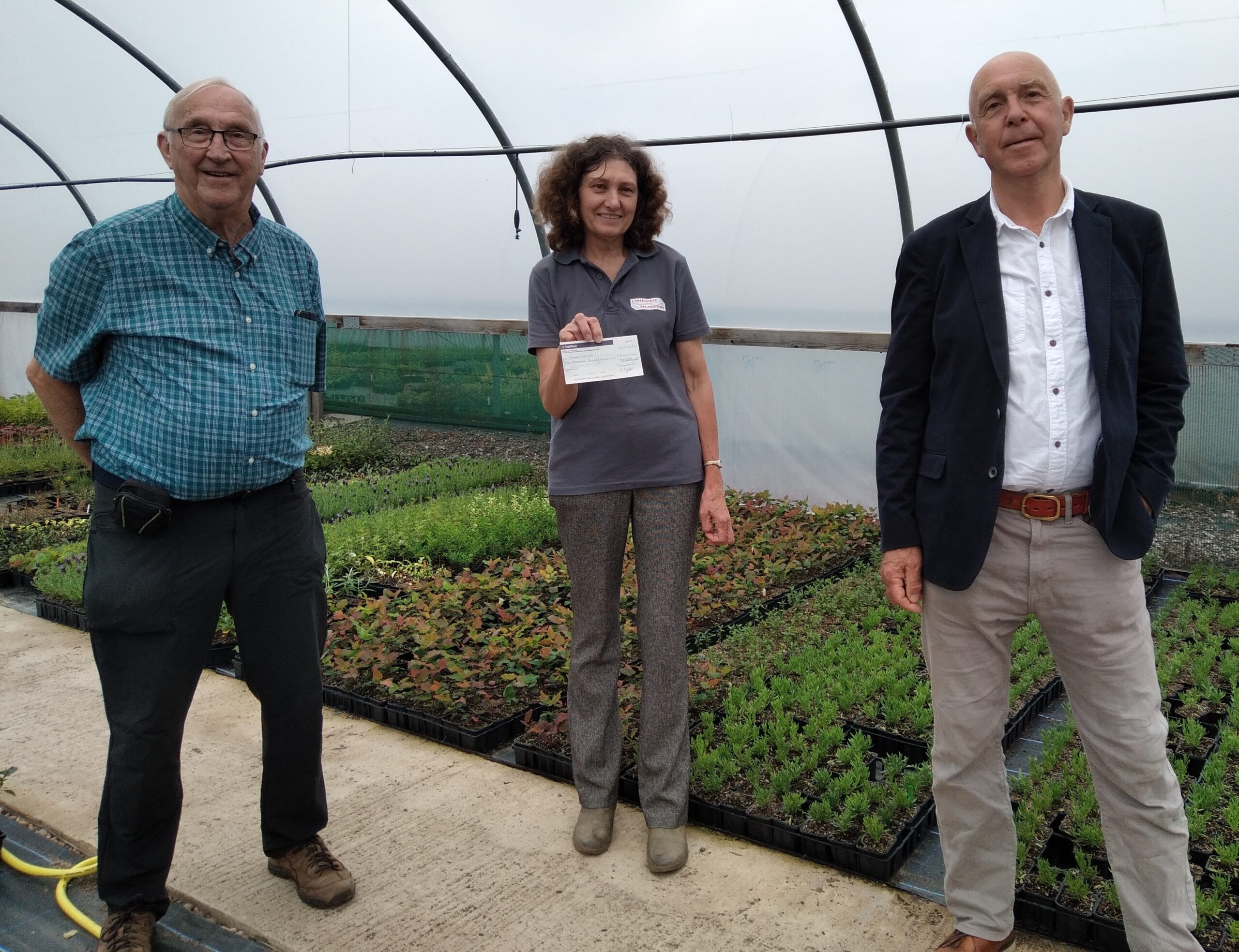 Janet Mobbs pictured receiving her prize from Dr Allen Langton (LHS) and Dr Kerry Burton (RHS)
Runners Up:
Jed Knaggs – Glasshouse CO2 enrichment and carbon uptake.
Keiri Swann – LED's as a replacement for traditional greenhouse lighting.
The Competition has now closed. Thank you to all those who participated. The winning entrants will be announced shortly. Look out for our exciting 2022 competition, details to follow soon.
GCRI Trust: 'Towards Net Zero Emissions in Protected Horticulture'
2021 Desk Study Competition – £2000 1st Prize!
The GCRI Trust is delighted to invite entrants to their new Desk Study Competition. For 2021, the theme is 'Towards Net Zero Emissions in Protected Horticulture' and submissions are sought on topics that will help the UK protected crops sector lower their greenhouse gas emissions.
Prizes: 1st Prize = £2000
Two runner-up awards = £1000 each
Deadline: The closing date is 30th April 2021
Who are the GCRI trust and what do we do?
The GCRI Trust was established in 1989 and is a registered charity governed by trustees. It was funded by financial contributions from growers and the Horticultural Research Association.
The GCRI Trust promotes scientific research and education bearing on the environmentally sustainable cultivation of horticultural crops growing in glasshouses, polytunnels and other structures. The scope extends to crops such as mushrooms and also the intensive production of bulbs, flowers and shrubs grown in the open.
Desk Study Competition – The brief
The GCRI Trust is running a new competition for well-written desk studies or literature reviews that analyses new technologies, new science or novel practices, that can help inform growers, advisors or scientists in their future horticultural business or research considerations and decisions.
The protected crops sector and associated commerce (suppliers) are striving towards net zero emissions i.e. achieving an overall balance between the amount of greenhouse gases emitted, and those emissions taken out of the atmosphere.
The theme of this desk study competition is 'Towards Net Zero Emissions in Protected Horticulture', and we invite incisive, well-written submissions that explore current and future technologies, methodologies and blue skies thinking that can help take the protected cropping industry forward in the global ambition to reduce greenhouse gas emissions.
Entries will be judged according to their originality, incisiveness, quality of writing, presentation, and relevance of content.
Deadline for entries is midnight (GMT) on 30th April 2021. Entries received after this date will not be considered.
Why is the GCRI Trust launching this competition?
The GCRI Trust traditionally provides early career scientists and technical specialists with travel grants – helping the international exchange of novel ideas and technologies. With the Covid-19 pandemic, we are wanting to continue reaching out globally, but without the travel!
The GCRI Trust also recognises that desk studies (literature reviews) are an invaluable first step to future science, technology and innovation projects and aid growers considering future business investments.
Guidelines for writing your Desk Study
Title: Desk Study (e.g. Capturing Carbon – A New Technology for Pepper Production)
Name of GCRI Trust Competition Entrant: (eg. Dr F Bloggs, DFB Consulting Ltd)
Headline bullet points: These bullet points (between 1-5 as guidance) should be written to flag up key highlights that will encourage a reader to continue exploring the report. The bullet points should succinctly answer the question: "As a result of this desk study, what could the UK Protected Crops and Outdoor Ornamentals sector look out for?"
Examples:
Growers in North America are using Probe345 to measure and forecast energy use in Aubergine crops
Tomato growers in Morocco are reducing fertiliser use through new timings of nutrient application
Towards a closed system: temperature and humidity, old problems with new solutions
The cost and generation of light in the next ten years
Energy production on a commercial nursery
Background: Text highlighting the broad issues to be addressed in the desk study (max 800 words).
Desk Study (max 4200 words, excluding references): Text that expands on:
Advances or novel applications relevant to the title of the desk study
The opportunities and threats posed.
The Headline bullet points and explains in more detail what/why/how/when the 'advance' could be put into practice by growers/consultants/researchers. This is the main text body of the review which may include: relevant financial information, action points, and sources of related information – anything that the Entrant thinks an industry member would find useful to put that 'Highlight' into practice. The addition of helpful graphs, diagrams, infographics or photographs to illustrate particular points is encouraged
Ideas for further related research or investigation.
Personal Statement: This section should describe how the work has impacted on you and why it is (or will be) of particular interest to the UK horticultural industry (50-150 words).
Contact details: Please include your contact details including Name, residential address, email address, telephone number and occupation.
Eligibility Criteria
The competition is open to all UK residents aged 18 years old and above, who at the time of submission must be resident (spend 183 or more days in the UK in the tax year) in the UK.
Only one entry per person is allowed.
The report, written in English (Arial 12 point font with single-line spacing), should be submitted as a Word document to the GCRI Trust (david.fox@gcritrust.co.uk), by midnight (GMT) on 30th April 2021.
Any personal data that may be submitted in an entry will be processed by the GCRI trust in accordance with any applicable data protection legislation.
By entering the Competition, entrants agree to hold the GCRI Trust harmless for liability, damages or claims for injury or loss to any person or property, relating to, directly or indirectly, participation in this Competition, or claims based on publicity rights, third party intellectual property rights, defamation or invasion of privacy.
Entrants agree that their entry is their own work, written solely for the purpose of the Competition, and warrant that their entry does not breach any applicable laws or regulations or infringe any third party intellectual property or privacy rights, and is not in any way libellous, defamatory, obscene, indecent, harassing or threatening. Submissions may be screened for plagiarism.
Assessment Criteria
The GCRI Trust will hold a judging day, which will draw up a shortlist of entries. Entries will be judged according to their originality, incisiveness, quality of writing, presentation and relevance of content. A judging panel consisting of representatives of the GCRI Trust will select the winner and three runners-up. The names of the judging panel will be made available on request. The judges' decisions shall be final. No correspondence regarding the results will be entered into.
Winning entrants will be informed on or before 30th June 2021 by email or telephone or in writing (using the details provided at entry). If the prizes are declined or unclaimed by a winner, or if a winner cannot be contacted from the details supplied within 15 business days of notification, a replacement winner may be chosen at the GCRI Trusts discretion and will be notified by the GCRI Trust. The original entry that was chosen will then be forfeited. The GCRI Trust will not be liable for any failure, delay or inability to contact a winner.
The names of the winning entrants will be published on the GCRI Trust website and social media channels, along with the winning essays.
The GCRI Trust reserves the right to carry over the prize monies to a later competition if the quality of applications does not meet the required standard in this instance.
David Fox
Trust Administrator