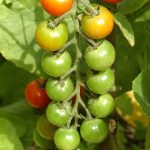 The Bewley Lectures were established in 1978, following the official opening of the Bewley Conference Hall at the Glasshouse Crops Research Institute (GCRI), Littlehampton, and were named after the first Director, Dr William Fleming Bewley.
Lectures continue to highlight important advances in horticultural and agricultural science and policy associated with the past scientific remit of GCRI.
Past Lecturers (1978-2013)
2017
Professor Jim Giovannoni (Boyce Thompson Institute for Plant Research, Cornell University, Ithaca, USA): 'Exploring the tomato genome and germplasm for conserved genetic regulators of fruit ripening'
2015
Dr David Chandler (Warwick Crop Centre, School of Life Sciences, University of Warwick, Wellesbourne): 'Predicted changes in pest management over the next decade: what goes around comes around'
Mr Bill Clark (Commercial Technical Director, National Institute of Agricultural Botany, Cambridge): 'Predicted changes in disease management over the next decade'
2013
Professor Graham Seymour (University of Nottingham, Sutton Bonington Campus, Loughborough): 'Understanding the Genetic Basis of Fruit Ripening – Science Discovery into Commercial Practice'
2012
Professor Elías Fereres, Professor in the School of Agricultural and Forestry Engineering, University of Córdoba, Spain: 'Water productivity in open and protected cultivation'
2007
Professor Richard Michelmore, Novozymes Inc. Endowed Chair in Genomics,  University of California, Davis, USA; Director, UC Davis Genome Centre: 'Comparative genomics of disease resistance in plants, particularly lettuce'
2005
Professor Rolf U. Larsen, Professor of Horticulture, Swedish University of Agricultural Sciences, Alnarp, Sweden: 'Issues facing horticulture in the 21st century'
2002
Professor Julia M. Goodfellow, Chief Executive of the Biotechnology and Biological Sciences Research Council (BBSRC): 'Can science help agriculture and the food industry?'
1999
Mr Ben Gill, President of the National Farmers' Union: 'Research and development: the importance of an integrated funding regime'
1997
Professor Donald Grierson, Professor of Plant Physiology, Department of Physiology and Environmental Science, University of Nottingham: Applications of molecular biology and genetic manipulation to understand and improve quality of fruits and vegetables'
1990
Professor Terry A. Mansfield, Director, Institute of Environmental and Biological Sciences, Lancaster University: 'Global warming and the greenhouse effect'
1988
Sir Leslie Fowden, Director of the AFRC Institute of Arable Crops Research and Rothamsted Experimental Station: 'New opportunities in agricultural research'
1986
Professor Ronald L. Bell, Director-General of ADAS and Chief Scientific Adviser to the Ministry of Agriculture: 'Research, advice, implementation: the benefits of creative partnerships'
1984
Sir Richard Butler, President of the National Farmers' Union: 'Outlook for horticultural research'
1982
Dr John H. Burnett, Principal and Vice-Chancellor, University of Edinburgh: 'Agricultural research in the UK – is it effective?'
1980
Dr Ralph Riley, Secretary of the Agricultural Research Council and, previously, Director of the Plant Breeding Institute, Cambridge: 'Science and technology in agricultural research'
1978
Professor J. Heslop-Harrison, Royal Society Research Professor, University College of Wales, Aberystwyth, and Member of the Agricultural Research Council: 'Research, crop production and policy'
About Dr William Fleming Bewley, CBE, DSc, VMH
WFB's scientific career began at Rothamsted in 1912 when he joined the staff as assistant bacteriologist.  In 1919, he was appointed mycologist at the Experimental and Research Station, Cheshunt, and was promoted to be its Director in 1921.  This was a post he held for 34 years, until Cheshunt's closure.
He is remembered during this time for initiating developments in disease control, biological control of glasshouse pests, the use of virus-free seed and CO2 enrichment in greenhouses.  He was wholly dedicated to the service of the glasshouse industries in the UK and the Channel Islands and, in particular, established his authority as a plant pathologist.  His book, Diseases of Glasshouse Plants, first published in 1923, became a standard reference work. He applied his mycological expertise to the cultivation of edible fungi, and his follow-up book, The Cultivation of Mushrooms, ran to three editions.  The completion of a third book, Commercial Glasshouse Crops, was interrupted by the war, and although it soon became out-dated after its publication in 1950, stands as a monumental record of glasshouse crop husbandry in the first half of the last century.
Following the closure of Cheshunt, WFB directed the establishment of the GCRI at Littlehampton on the South Coast, and became its first Director.  He oversaw the transfer of staff and facilities from Cheshunt, and the integration of research from the Mushroom Research Association at Yaxley, near Peterborough.  He was, undoubtedly, a "horticultural giant" who assisted the shaping of the UK horticultural research service at the time and, arguable, helped make it the envy of the world.
[Much of this appreciation of WFB is taken from an obituary written by G F Sheard in: Nature (Lond), 265, 571-2, (10 February), 1977.]